By Delaney Francis on Nov 4, 2020 1:51:37 PM

This popsicle stick turkey craft is a fun way to work together as a family while working on fine motor skills. Pair this craft with a lesson on what your child is thankful for by downloading our free printable. Be sure to also check out our Fun Thanksgiving Hand Wreath Craft to do this November.
Materials Needed:
Popsicle Sticks
Brown Paint
Googly Eyes
Pipe cleaners
Colored Paper
Regular Glue
Glue gun (adults only, please!)
Directions:
1. Download our Thankful Printable to complete alongside the craft.
2. Have your child count and lay down seven popsicle sticks. Parents, you will want to hot glue each additional stick to the back so the popsicle sticks stay together. Repeat on either end.
3. Assist your child in painting the popsicle sticks brown.
4. Your child may choose which colored construction paper that they would like to use. Please help your child trace and cut out the feathers and a beak for their turkey.
5. Cut and twist pipe cleaners to bend the turkey's legs. Parents, you may want to take the lead on cutting the pipe cleaners.
6. Set and glue the googly eyes on the middle of the brown painted popsicle sticks.
7. Glue the leaves, beak, and legs to the turkey. An example of a turkey is below. Each turkey will look different, and that is part of the fun!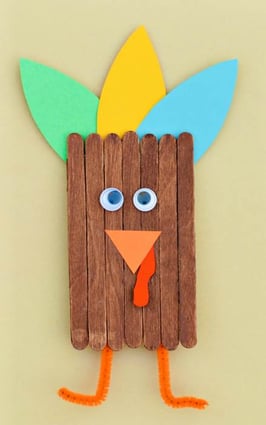 Photo source: Pinterest, unknown
8. Ask your child what they are thankful for this holiday season. Help them write these words on their wreaths.
About
: Circle City ABA is a state-of-the-art autism center in Evansville, Indiana and Lafayette, Indiana. Specializing in applied behavior analysis (ABA) therapy for children with autism and related conditions. Circle City ABA is a destination where play meets progress. Programs are designed with each child in mind. The journey begins at an initial assessment from our qualified team. Several Hoosiers in the Evansville and Lafayette area are already loving Circle City ABA. Learn more at
circlecityaba.com